2022 Unstoppable Women's Event
2022 KPWE Unstoppable Women's Event
The 2022 KPWE Unstoppable Women's Event returns this year on Wednesday, May 18th at the Ent Center for the Arts. Join us as we celebrate the 2022 KPWE graduates and recognize Sally Hybl as this year's Unstoppable Woman. You can attend the in-person event at the Ent Center for the Arts or join us virtually.
Event Details: 
Wednesday, May 18th 5:00pm - 6:45pm MT
Ent Center for the Arts: 5225 N. Nevada Ave, Colorado Springs, CO 80918
Note: In-person tickets for the Unstoppable Women's Event can be purchased over the phone by calling the Ent Center's Box Office at 719-255-8181 or you can purchase tickets in-person by visiting the Ent Center's Box Office.
The livestream will begin at 5:00pm and end at 5:45pm MT
For general event questions or concerns, please email development@uccs.edu or call 719-255-5100.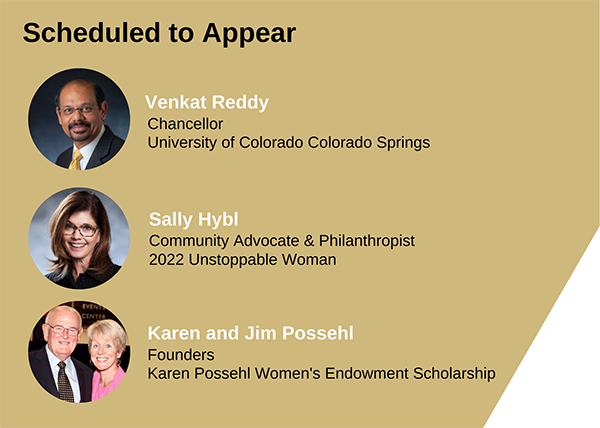 The KPWE Scholarship helps to change lives for the better and we can impact more lives with your support.  Make a gift today.
Follow the KPWE Scholarship program on Facebook! 
2022 Unstoppable Women's Event Sponsors 
Thank you to this year's generous sponsors! 
The Broadmoor 
Centura Penrose St. Francis Health Services
Colorado Adventure Hostel
Colorado Springs Chamber & EDC
The Edmondson Foundation
Ent Credit Union
Lyda Hill Philanthropies 
Rotary Club of North Colorado Springs
UCHealth
Kyle and Sally Hybl
We look forward to you joining us as we celebrate our 2022 graduating scholars!
Past Honored Unstoppable Women
*2020 - Margaret Sabin
2019 - Peggy Shivers
2018 - Dr. Pam Shockley-Zalabak
2017 - Dr. Barbara Swaby
2016 - Lt. Gen. Michelle D. Johnson
2015 - Jan Martin
2014 - Nancy Lewis
2013 - Margot Lane
2012 - Sharon Berthrong
2011 - Mary Osborne
2010 - Mary Lou Makepeace
2009 - Karen Possehl
2008 - Barbara Yalich
2007 - Mary Mashburn
2006 - Mary Ellen McNally
2005 - Kathy Loo
*The 2020 Unstoppable Woman was celebrated at the 2021 KPWE event
Karen and Jim Possehl
Karen Possehl made a pledge that has, with the help of community donors and mentors, forever changed the lives of many UCCS scholars. By attending and donating at this year's Unstoppable Women's celebration and fundraiser, you can help ensure that even more "unstoppable" students attain their educational goals and strengthen our community. Join us in celebrating the great accomplishments of the KPWE scholars and honor the 2022 Unstoppable Woman. Thank you for your support!

The future belongs to those who believe in the beauty of their dreams. – Eleanor Roosevelt